2021-06-10 Monthly Feature Story-May 2021-Newly-picked Tea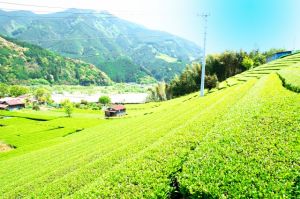 Cultural Tips-Newly-picked Tea
May 1st is 'Green Tea Day' (or May 2nd depending on the year). It is the 88th day, counting from the first day of spring in the traditional Japanese calendar. It is also the best season to pick new tea leaves.

In Japan, people believe that drinking the first picked tea of the season prevents people from getting sick throughout the year ahead and helps them to live long. This is based on a belief that eating the newly harvested food, which is full of energy, is good for your health, enabling you to get new vitality and have long life.

The newly-picked tea has less caffeine and catechin, and has more theanine compared to tea leaves picked in later seasons. Catechin is an ingredient that adds bitterness to the tea and theanine is a source of umami and sweetness in the tea. It also works to relax the autonomic nerves.

The first picked tea of the season could be the most suitable drink amid the COVID-19 crisis.